I set to work straight away with the leather that Joy whom I met thru Freecycle gave to me. I carefully took a bit at a time off to get the right shape then added elastic for under her wings.
See the pictures. Click to enlarge them.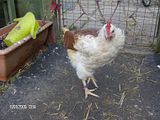 Dearest Rita, lovely bird,
Love is not too strong a word
For the way I feel for you,
And hope you feel it for me too.
I love you more than I can say,
And even more each passing day.
Rita posing in her new leather jacket, lol
We made some photo albums today as we used all our free space on Flikr so have gone to Fotki instead which we have previously used for personal pictures and they're great. Here's the link to our Rosah albums
http://public.fotki.com/rosahrescue/
Oh and we have 2 eggs so far from the other ladies
[Update at 9.30pm- 5 eggs today making 60 this month already from 19 hens]