We're so pleased to have bought 2 wives today for Newton, our Pekin bantam.
Here are some pictures of them all....we couldn't get them all on one shot so took a few. You'll need to click them to enlarge them.
Anyway the Lavender lady is called Fenella (Ella from the fens) and Mark named his Gold Birchen one Amber as she looks like she has flames.
The kids were thrilled when they came home and saw them.....in fact they never got put in their coop and are still here with me now at almost 9.30pm so it looks like they'll be overnighting in the dog crate.
We just want to say a huge thankyou to Karen & Simon at
Power Poultry
for the hens and the introduction to all the breeds.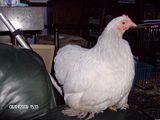 Fenella
Newton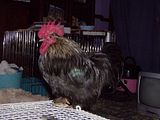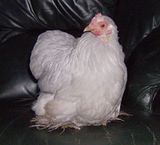 Fenella
Amber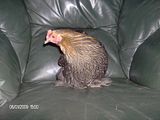 Our main flock also laid 5 eggs today taking our total this year to 40.
We went to
Bearts
to get the animal feeds and supplies and OMG it cost us over £100! (and we go fortnightly and still have fresh stuff to buy)
Fair enough though, we did buy a kids boiler suit for Mini (for £14) when she comes on the next hen rescue as her legs had grown too long for her current overalls. She's such a star when it comes to the chickens though and was thrilled with her bright blue Dickies boiler suit, lol.