The Pekins have settled in really well and the kids adore them.
They make such nice pets and are only about 9 inches tall and they have the most delightful feathered feet.
Amber and Fenella haven't laid any eggs yet but we're hoping they will be fertile if they do, then we'll have our own little family of them as Amber is broody.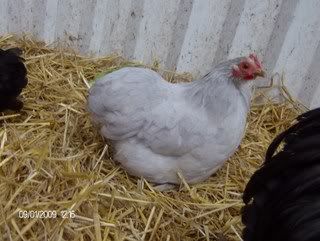 Dolly the pony had her booster jabs today for flu and tetanus and also had her teeth done this morning. She was really well behaved but I suppose at her age she's had it done a fair few times in the past and knows what to expect. Ruth had also put on her quilted leg warmers to keep her joints nice and toasty warm in this bitter cold weather and also held Dolly while Eve, the vet filed away at Dollys teeth. I propped myself up on the barn as I'm on both crutches and in a crappy way today.
We've moved a large guinea pig cage that has a run below it next to the hen pen for when Rita's feathers are back. She will be able to associate with the flock without being menaced and replucked. I've posted a wanted message on
Lincs-Pets4Life
if anyone has a hen saddle I could have or borrow. It may protect her from the vicious mob.
Our ex batts, ex barn hens and free rangers managed to lay they grand total of 2 eggs today!