Mark let the hens out this morning and said that Rita seemed more settled and not as picked on so I was horrified to go out this afternoon with the mealworm porridge and see that all her lovely new feathers have been plucked out to the point of her bleeding.
I am so upset. I scooped her up and brought her in, putting iodine on her wounds and put her down in the lounge....only for her to immediately start running the Pekins around and trying to bully them.
I caught her and put her in a carrybox, resprayed her wound and she is now feeling very sorry for herself in an indoor guinea pig cage.
I'm heartbroken, her feathers were looking lovely. She won't get along with any bird, even Lizzy when she was being nursed- that's where the term Rita the Beater stemmed from (Rita Connors, former "Top Dog" on Prisoner cell block H) Rita and Lizzy although both unwell, had to argue and attack each other.
1st January- feathers just regrowing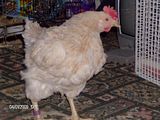 4th January- About ready to join the flock, lovely feathers regrown
7th January- After the attack by the other hens (the staining is iodine, sprayed on as a disinfectant)
As the Pekins outdoor house & run is prepared, unsociable Rita will now end up in a rabbit hutch and run but I've got her in again now until her skin heals and feathers regrow. I cannot risk her being near the other hens until there are no scabs or sight of blood as hens swoop in on it. They can be vicious little sods.
Someone has suggested a "stab vest" aka a saddle like people use to stop the cockerels pulling feathers when mounting the hens- I shall have to look into getting one maybe.
PS Another 5 eggs today (added to the total in the right hand column)