and have both been
reserved
already!!
One is blind, it would appear since birth but seems strong and healthy, the other is very healthy and strong. From what I can tell they are both female so will stay together when the time comes. We've had blind ones in the past that have lived a normal life with a companion.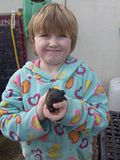 these are the 2 babes. the blind one on the right.

We also had 12 eggs today from our hens which has broken our previous daily record.

~~~~~~~~~~~~~~~~~~~~~~~~~~~~~~~~~~~~~~~~~~~~~~~~~~~~~


These pictures below are especially for Grandma




click to enlarge them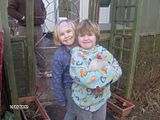 The girls with Fenella the Pekin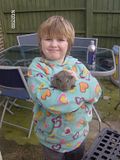 Mini with Silkie
12 HAPPY EGGS FROM HAPPY RoSAH HENS TODAY!