As I probably already mentioned below, we brought back 30 hens plus a lovely cockerel for other people.
10 hens and the cockerel went to their new homes on Sunday and on Monday, Sue my Boston & Skeg Freecycle Mod came to collect her 8. It was lovely to meet her at last but before she came I took a few pictures and video clips as the hens weren't very still and I was getting a few blurry pics. We've still got 12 hens to go which I hope will go tomorrow so the cats can go back in their enclosure.
I'd also like to show you Lizzy who we got at the end of November. We called her no neck Lizzy and thought she had a tumour on her neck but it turned out to be a curvature of her spine. Well with a good diet, and a lot of TLC I'm pleased to say she now stands tall with no sign of how she was upon being rescued which I think is miraculous. I actually brought her home to give her love for her last days! She became my "parrot hen" often sitting on my shoulder while I was on the computer and I'm very fond of her.
Click to enlarge them.
BEFORE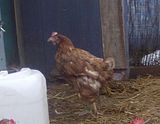 HAPPY EGGS FROM HAPPY RoSAH HENS