Poor Olive, we've never had any problems with anyone pecking her. She was one of the anber-link rescues and is white with brown flecks.
Today I noticed on her back and neck she has had feather plucked out so I've put plenty of "Anti-Pek" on her and hopefully, whoever the bully is will get a mouthful of yukky feathers and leave her alone in future.
Here's a pic of her a few weeks ago, strutting her stuff with her fancy comb and lovely looks.
I've sat out there for ages and am unaware of anyone getting her.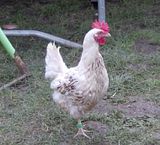 HAPPY EGGS FROM HAPPY RoSAH HENS