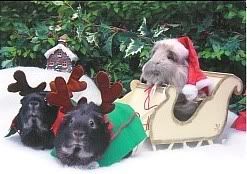 On behalf of the animals, we'd like to wish
a very merry christmas to all of our supporters, especially Erica for continued support.
We've put out a request on our local Freecycle group for any leftover veg/peelings for the guinea pigs and ex battery hens so hopefully people won't throw their left overs away and will pass them to us.
The hens especially love cooked veg, the guinea pigs love raw sprouts, stalks, peelings etc...
Our christmas will be pretty much the same as an ordinary day.....we'll get up extra early with the children to see what Father Christmas has brought them, then let the chooks and ducks out and feed and water everything so we can come back in earlier ourselves to cook and eat dinner.
We've got the dreaded FROZEN veg ourselves as Hubby is cooking and to cut down on time as we have to be at the stables in the afternoon to give Dolly a muck out and her tea.

We'll be having vegetarian.......not sure what yet. (I'm quite happy with veg sausages, meat, tates, veg and gravy.
No one in the family wants dead bird for dinner which is a relief.
We'll be back online after christmas and the bedlam has gone and peace resumes once more.
Have a peaceful christmas....although I'm sure few people actually do have peace at christmas.