Today we had glorious sunshine, lots of mainly feathered hens and some lovely rehomers collecting their new pets. A French TV crew were also on site filming people collecting hens.
We spent the day at
LHR
. I was manning the
Bearts
stall selling layers meal, feeders, drinkers and various poultry tonics. My dear other half was directing traffic as well as catching hens.
We brought 21 hens back to Sutton Bridge for other people including 6 for our friend, Karen whose hens laid an egg on the way back in the crate.
I bought 2 poorlies home again. This time named after Emmerdale characters, Edna Birch and Betty "Eggleton" (Yes I know Betty's name is actually spelt Eagleton but it's more fun with the egg relevance) Both ladies are "off their legs" so will need extra TLC to get them standing and walking again but we've managed it with the others so we should be ok.
Mini came with us. Joe stayed home as "animal supervisor/carer" and the others went to their local Grandparents for the day.
I think today was a very successful and enjoyable day.
Can't wait until next month for the next one. Click the pics to enlarge them. These are Jo at LHR's photo's as I took no camera with me.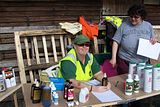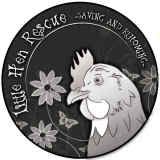 HAPPY EGGS FROM HAPPY RoSAH HENS