We've had two lovely pigeons lodging with us for most of the week. I managed to hold the darker one and see blue ink on it's flight feathers which clearly showed a 'phone number so I called it and eventually got hold of the owner in Bridlington. I thought the birds had left us last night as they were nowhere in sight at bedtime but today they were back with us. I REALLY love them and
secretly
hope they never get their bearings and leave. Click to enlarge the pic. They're stunners. No idea where the mainly white one hails from. It has different rings to the grey one who I call "Bridget from Bridlington"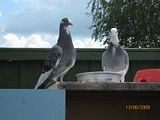 Yesterday Mark built "The Peek Inn" and a fun day was had by all of us and especially the Pekins at bedtime who had to sleep in the same hut for the first time. It started out as a brand new garden store. We've already got one for the ex batts but that is at ground level rather than being raised like the bantams one has been. It's customised to suit them. Roosting bars, cat litter trays as nest boxes in case of chicks, correx floor for easy cleaning and it'll hopefully be painted on the outside this week and look like a Southwold Beach Hut along with the Des Res too ;-)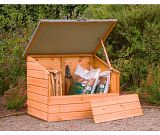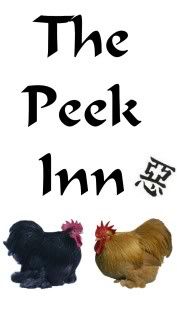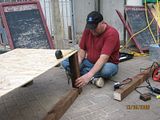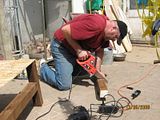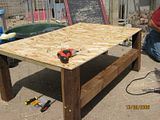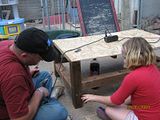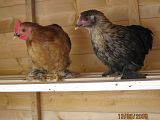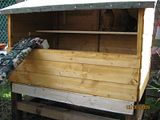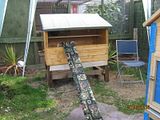 Today Aunty K came with my dear nephews and we spent the day outside with the chooks. Amber laid an egg that rolled all the way down their carpeted ladder and Fenella laid one at Aunty K's feet so of course we let her take them for the boys breakfast.
In fact K took all of todays fresh eggs which I *think* was 14. No duck egg today but when Jemima does lay an egg we have to get it quickly as the ex batts seem to have a liking for duck eggs.
After K and the boys left I got cracking on the computer sorting out all the hen people for next weekend. Sending reminders to people who registered an interest but hadn't replied when given a date. I'm trying to get everyone on Sat but again, it depends how many reply. I do have one lady coming on Sunday but I'll be over there anyway so don't mind bringing her 7 back then.
Mark will have to go to Bearts this week and stock up on mash again. Seems the best way of doing it rather than lugging it all the way from Norwich when we'll be going to Bearts anyway.
Have now given Chloe a trim and am feeling knackered. Am just eating some cheese ravioli with Reggae sauce then I'm off to sleep.